I'm Enzo the school tomcat. Here at visņvis everyone knows me. I look around every now and again to check if everything is alright before I head outside on one of my adventures. I'm not allowed to go into every classroom - because of cat allergies and stuff.
My human tin-openers are strict on principles like that.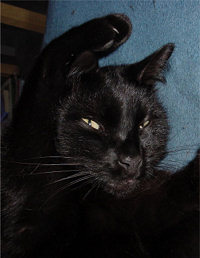 On the website Iím there for everyone (to admire me of course). That I have something to do here
as well is real catnip to me. Iím supposed to be managing the
photo album
. There are some really nice photos of the goings-on at the visņvis Language Institute. Many students already belong
to the family here. Theyíre even turning up when they donít have lessons to attend. But hey, that says a lot about us, doesnít it?
Back to work. I've attached a couple of links above. There you can look at photos or write your name and comments in the
guest book
. That also works when you click on the marked words themselves. And when I have something really fantastic, then I post it under "
The Cat's Meow
."
Hmmm, what is that I see in front of your computer screen? Isnít that a mouse?
Sorry, Iím offÖIíve got a date. Iíll be back soon, though!